As this year comes to a close, most of us are looking for a bit of holiday style inspiration.  Our get-togethers are either canceled or much smaller as we all try to keep safe and healthy, and we are looking for a pinch of sparkle and happiness amidst our new holiday "normal".  For most of us, our celebrations will be with small family groups or close friends in our homes or their's.  So what should we wear to bring on the holiday cheer?
01
Holiday Style Inspiration: Wear Elegant Comfort
As we find ourselves at home for our holiday parties we are looking for comfort-but that doesn't mean we have to sacrifice style and elegance.  Think of knit loungewear and sweater sets with rich hues and classic styling.  Add a chic bootie or sneakers with some bling to set a festive mood.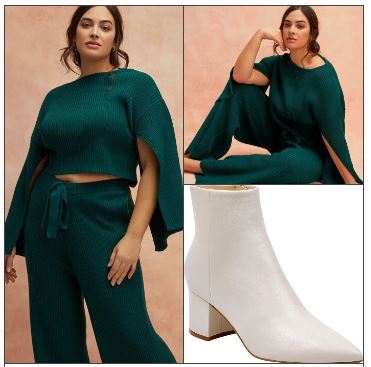 02
Holiday Style Inspiration:  Wear Easy Formal
You may want to get dressed up after wearing joggers and slouchy clothing the last few months…not to worry…you can wear that great dress and still be comfortable by looking for soft fabrics with stretch.  Go for a tailored fit to keep the look more formal, and ease the style with a soft mule or slipper.  You can also pair it with a bootie with memory foam or a cushioned insole for comfort, especially if you will be standing while preparing the meal for your guests.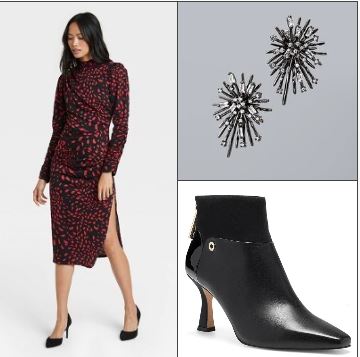 03
Holiday Style Inspiration:  Add Festive Red or Green
There are certain colors and patterns that bring out the festiveness in any look.  Add a touch of red in your accessories, add a great red scarf, or look for classic holiday prints such as buffalo plaid to bring some holiday cheer to your style.  See this beautiful skirt outfit and more holiday style inspiration in my Holiday Style 2020 Catalog and LookBook.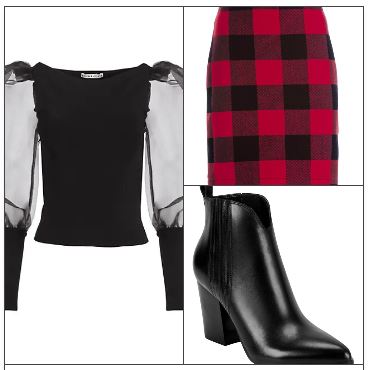 04
Holiday Style Inspiration:  Mix Casual and Bling
Many of us will find our holiday style inspiration in a pair of jeans and a comfy top.  We can take the ho-hum out of this casual look by pairing our jeans with a touch of bling or luxurious detailing.  Think of faux fur collars and cuffs, embellished jeans, or a touch of sparkle in an accessory.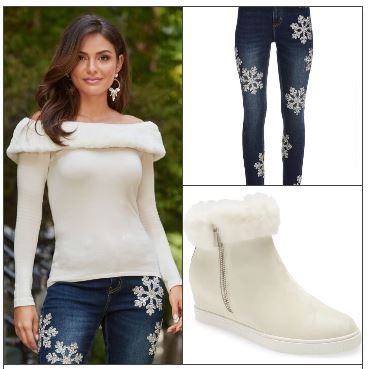 Add a bootie with sparkle!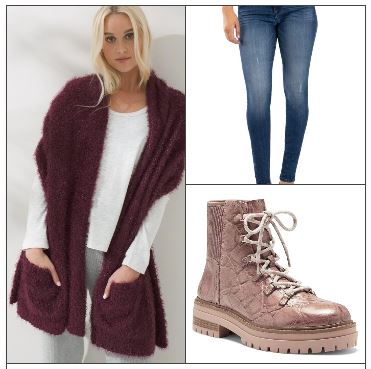 Patterned joggers and a faux fur bootie make this a great easy style for a holiday get-together.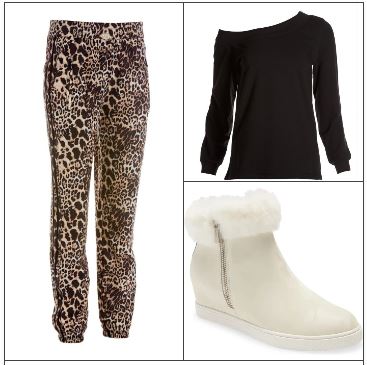 This has it all!  A touch of red, a comfy footwear option, and a bit of sparkle.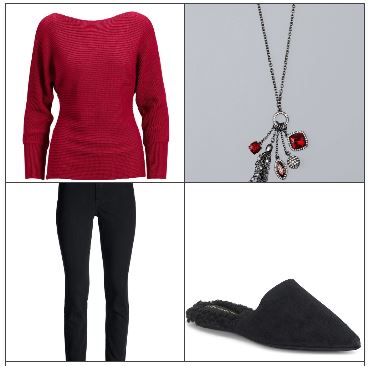 I hope these ideas have inspired you to create an outfit you love and feel amazing in this Christmas!  To see these styles and many more *(and make sure to look at the "Finds" to shop and the "LookBook" to see the outfit inspiration) go to Pat's online catalog "Holiday Style 2020″.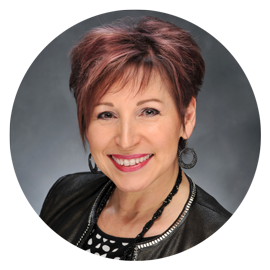 Pat Gibson is a certified Image Consultant, Personal Stylist, and owner of The Artistry of You, LLC. To learn more about how Pat can help you achieve your best personal style and image call 440-212-2269 or email , or click here to schedule a complimentary style discovery session!
*I may recieve a small commission on some of the styles in my online catalog. This helps to compensate me for the time it takes to create the blog and catalog for your learning and shopping pleasure. Thank you!