Wearing the fashion "trend colors" is not essential to your professional career.  My training suggests that when choosing a garment or accessory for yourself, you should always choose based on how that item flatters your coloring and style and enhances your visual brand.  Whether that style is classic or trendy -it should reflect your personal style.   What is important to note is that the trend colors will be prevalent in the stores that season and sometimes throughout the year, so it is highly beneficial to know if these colors will work for you.  If a trend color works well for you, I suggest you get some key pieces for your wardrobe that season.
We can buy garments and accessories in trend colors, but if they don't suit us, they will sit in our closets unworn.  Fortunately, the key colors of Spring/Summer 2020 are versatile and will work well for many of us. Let's look at these colors and who can wear them best.
The 2020 Color of the year is Classic Blue.
When Pantone announced Classic Blue as their 2020 Color of the Year, I wasn't ecstatic.  I was expecting a color that elicited more emotion.  I always like to research the background of these choices, and when I did…it all made sense.
Pantone wrote that Classic Blue instills calm, confidence, and connection while highlighting our desire for a dependable and stable foundation on which to build as we cross the threshold into a new era and decade.  And there it was…clever really.  Pantone had recognized that, as our blue planet tilts on the verge of a new decade, it is plagued with threats unlike any we've seen before.  We are surrounded by political and environmental uncertainty.  Even our children are worried.  If there was ever a time, we needed blue, it's now.  When you look more closely at Classic Blue it is not a true blue but has some green. That makes it more appealing and flattering to a larger group of people.  Broken down Classic Blue is a cool to neutral color, contains a little green, is neither a clear or neutral color and is medium dark in depth.  Most people will be able to wear this color well as it is almost a universal color.
The other key Spring/Summer colors for 2020 include Flame Scarlet, Saffron Yellow, and Biscayne Green.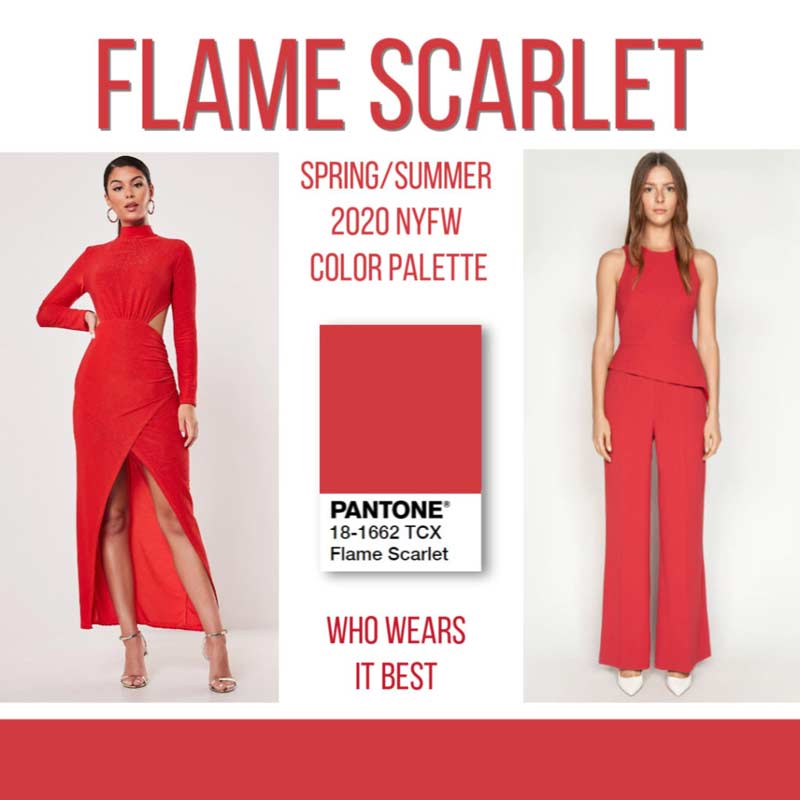 Broken down into the elements of hue, saturation, and value, Flame Scarlet is closely related to watermelon which, along with its lightness and neutral to clear saturation, makes it almost a universal color, a color that suits almost everyone.  Being a red, Flame Scarlet is a great color to wear when you want to stand out from the crowd and feel and be perceived as confident.  Those of us who typically can wear bright colors well will be able to wear this color with confidence, as it is very close to Watermelon Red, a universal color that most can wear.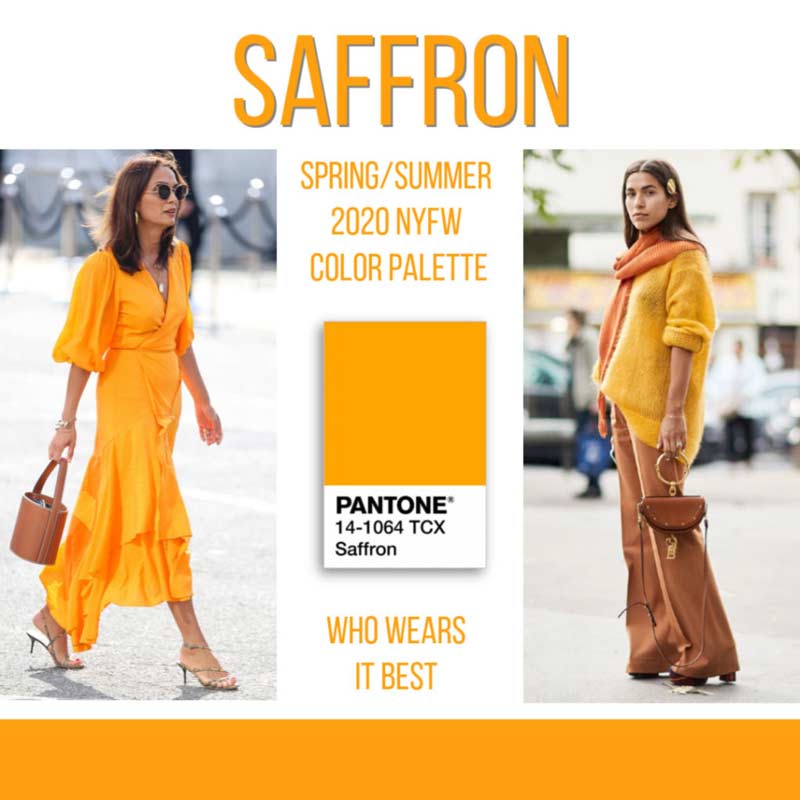 Saffron is a vibrant, medium-depth, fully saturated golden yellow.  The fact that it is verging on being orange, makes it a warm color.  This is another color to wear when you want to stand out from the crowd and be perceived as confident.  Team it with browns and or cream for a more subdues look or with navy, denim or classic blue for a more head-turning style. This color will be the most difficult to wear if you have cool undertones in your skin. Those who have soft autumn coloring will wear it best.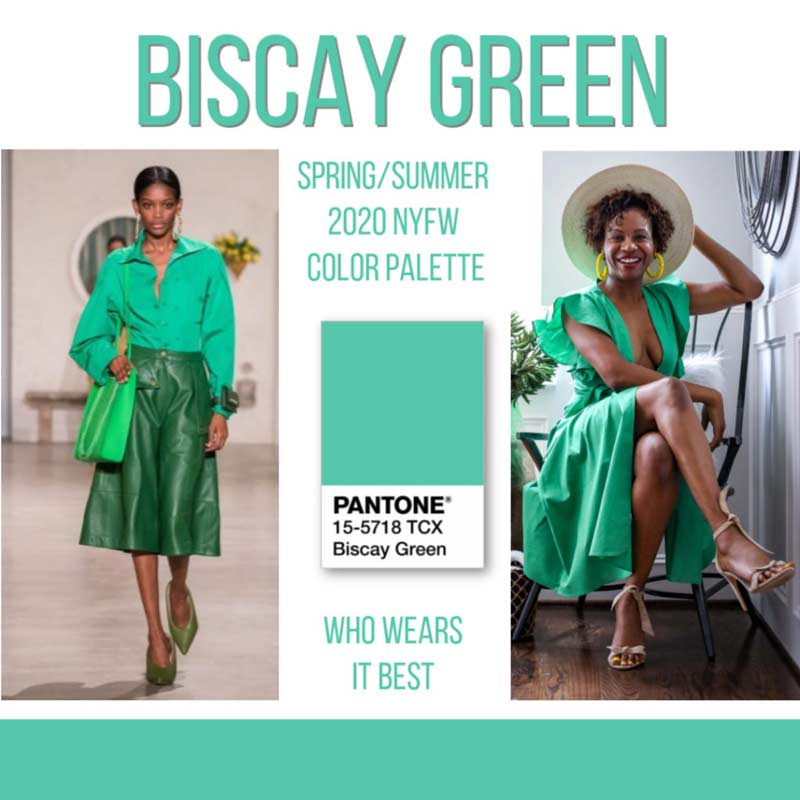 Biscay Green– this summery, medium depth and saturation green sit slightly on the cool side of neutral, making it a color that will suit many people.  Subdue this bright color with light to medium pastels or white or cream.  For a more upbeat look, pair it with medium-bright hues.  Coordination with hues such as classic blue/navy or plum/aubergine is best when Biscay Green is an accent item rather than the foundation garment.
It is essential for professionals to know their best colors and contrast for clothing and accessories.  Having this knowledge puts you ahead of the pack and helps you stand out.  You will look more vibrant, smarter, healthier and mentally sharp.  Your wardrobe will coordinate and you will actually buy less when you know what suits you.  Your confidence will increase and you will spend less time worrying if your outfit is appropriate.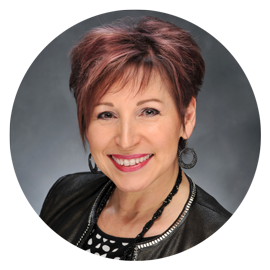 You can discover your signature colors with a professional color analysis from a Certified Image Consultant.  The Artistry of You provides this service with over 25 years' experience and the best tools in the industry.  We would love to help you on your professional journey in crafting your best visual brand.