Working from home has created a new way of dressing, Harper's Bazaar calls it "Biz-leisure."  The concept, born of quarantine, has us mixing and matching comfortable loungewear with business attire.  The question then becomes, "Will this new style genre stay with us beyond 2020?"  Will we continue to wear our track pants with a blouse and blazer when we join in-person meetings in leu of Zoom?  Let's look at what to wear for fall.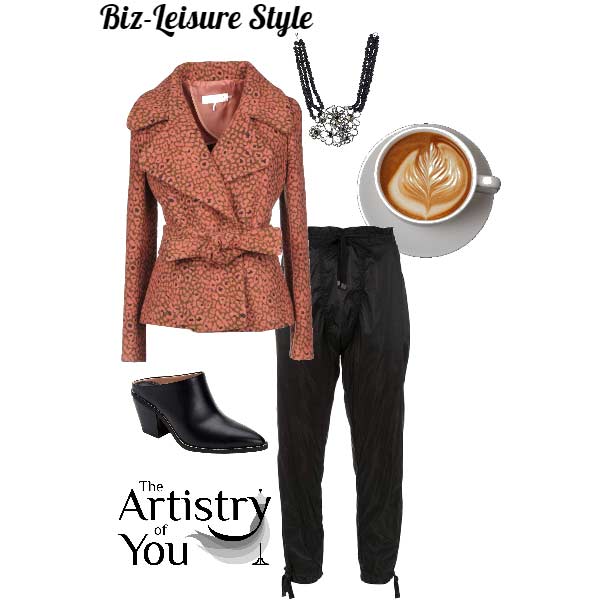 After researching the idea in popular and industry publications, and talking with colleagues around the globe, it seems no one in the fashion industry really knows for certain what will happen, or what we will wear for fall.  What I do know is that most fashion designers, couture houses, and major retailers think that fashion will change.  We are seeing fewer brands in fashion weeks, more influence from social media, and changes to the entire production and selling cycle because of the pandemic.
So, what should you wear for fall? 
I believe that people will still want comfort and ease but will also want to look polished and chic.  Yes, we may want to wear our joggers when we are at home, but as we venture out more, we will want to look stylish and feel put together, and have a little more structure to our look.  We will want to feel "different" than we do at home and "special" when we have that date or night out with friends. We will want cute, stylish, and yes, comfortable ensembles that speak to our personal brand and send the message that we are comfortable in our own skin, yet remain professionally dressed at the workplace or at home on Zoom. One recurring theme I see is feminine blouses with high waisted pants and comfortable layering such as blazers with stretch.  Taking into consideration the trend of social responsibility and sustainability in fashion as well, I stand on the following principles that have always guided me in updating my own wardrobe as well as my clients', and I feel they are especially on-point as we look at this year's fall dressing:
Buy quality garments that are classic in style for the foundation or "core" of your wardrobe.  Items such as blazers, a straight-leg trouser, a pencil skirt, and a leather jacket will never go out of style, so these are always a great purchase.  With the world in upheaval, you will find these tried and true staples in stores and online as the fashion world responds to chaos with trustworthy styles and calming colors.  Currently, feminine blouses are one of my key picks as well as tailored, yet comfortable pants, and jackets with stretch or movement.  We can spend more on quality with these classics because they will never go out of style.  Here are some examples in stores now: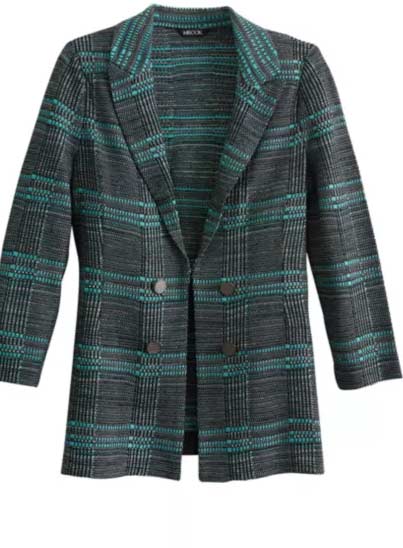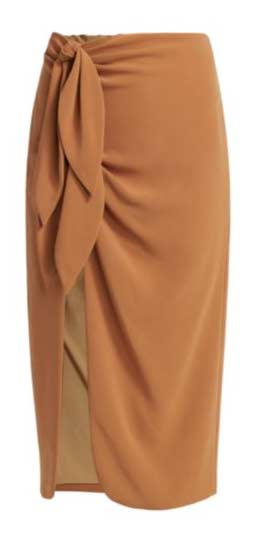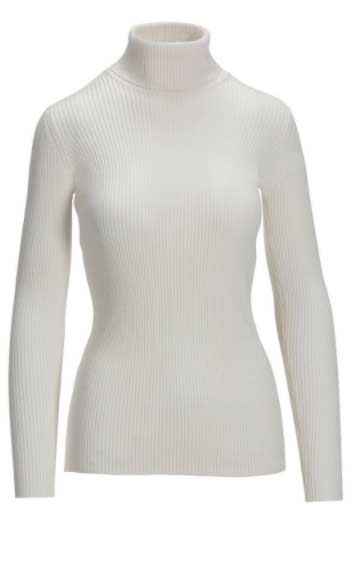 2. Look for your Signature Colors — those that make you look younger, sharper, healthier and speak to your personal style — before you buy "trend" colors.  This does not mean you can't wear some of the trend colors….it just means that most likely you can't wear all of the trend colors (at least not well).  So, if you want to buy a blazer in Amberglow (a radiant autumnal orange), because it is a Pantone 2020 fall color, go ahead, as long as the color and style look great on you. In other words, fit, color and style flattery should always beat buying a garment "just because it's trendy."    If you don't know your signature colors check out our in-person Color Analysis or our Virtual Color Analysis.  You deserve to know!  For now, see the styles below that contain many universally flattering colors. White is a big standout color for fall, ranging from the Pantone "Almond Oil", a smooth and subtle off-white shade to brilliant white.  There is a shade for everyone and off white, or "winter white", is a color that everyone can rock! See all the fall trend styles here!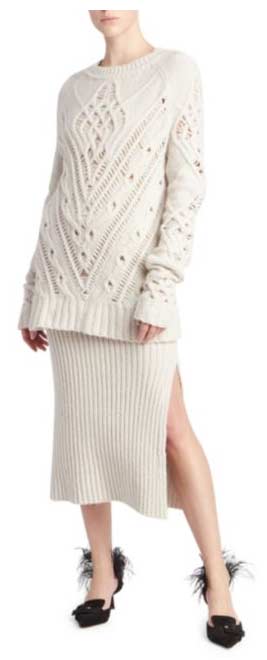 3. Look for Versatility in both garments and accessories.  These are styles that can go from the meeting room (or Zoom room) to the soccer field or lunch with a client.  For years I have searched for and found the perfect garments for my clients that are not only comfortable but can also go from casual to business, depending on the styling.  Often times, these are jackets or unique layering pieces that can instantly elevate the style of a blouse and skirt or pant outfit.  I also love accessories that can be worn in multiple ways, like necklaces with adjustable chains for wearing at multiple lengths, or scarves that can be worn in multiple ways.  The leopard print shirt dress below is a great example of a versatile garment.  See my fall catalog for more examples and styling ideas.
4. Accessories should encompass 25 to 30% of your wardrobe.  Yes, that's right!  It may seem like a lot, but remember this includes shoes, handbags, scarves, sunglasses, glasses, and all of your jewelry.  If we are looking to be sustainable, and not make more waste buying unnecessary things, one of the easiest ways to change the look of an outfit is with accessories. In fact, you can change the entire mood of an outfit with accessories. The biggest trend for fall is thick gold chains and hoop earrings.  See the examples below and then check out my favorite accessories for the season and more if you are lacking in this area or want to easily update your style this season.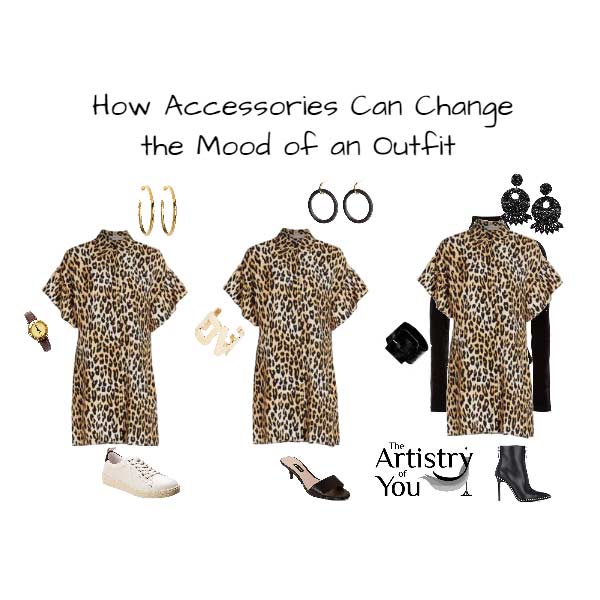 5. Buy some Hero's!   A "Hero" garment or accessory stands out in your wardrobe, either due to the styling, texture, or color combination.  It makes people say "wow" when they see you.  They may be trendy, or they may be classic, but they definitely need to make you look and feel fabulous.  For fall 2020, I believe these styles will differ for each of us. The one thing they will have in common is comfort.   Whether a dress or a jacket, a jean or a scarf, we have spoken and the fashion industry has listened.  Never before have I seen the magnitude of soft, soothing, luxurious fabrics that are now available at just about every price point. Below are some of my favorite "heroes" available right now.  Remember though, for each one of us, these special additions will be different.  The hero for someone who has a "Modern Romantic" style will be completely different from someone who is a "Casual Eclectic" style.  This is where the individuality of you can truly shine through.  See the entire catalog of fall styles here and see if you can find a "Hero" for yourself. Make sure to see my "comments' which detail which style or figure can rock each garment as well as suggestions on how to style them in the "Lookbook" accompanying the catalog.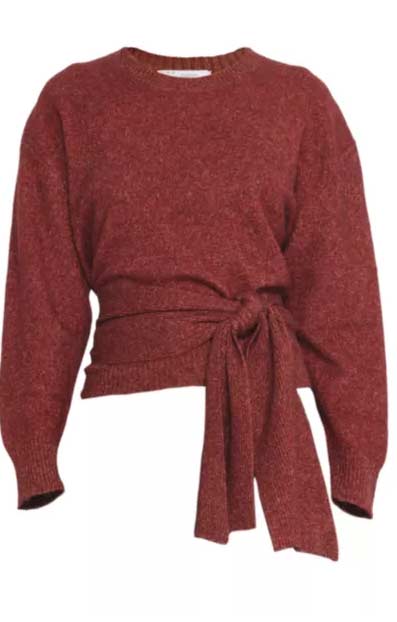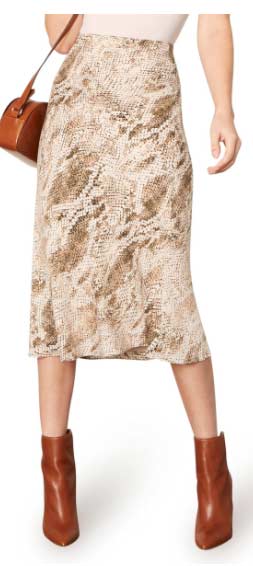 I hope that these ideas have inspired you to find your unique fall style "mojo", your personal expression of biz-leisure, and what you should wear for fall.   I am very excited about this trend as it coincides with my belief that we should all have a balance in our wardrobe of work and off duty pieces that offer more mixability and outfits that  work for those days when we need to wear multiple "hats"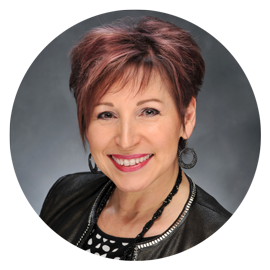 Pat Gibson is a certified Image Consultant, Personal Stylist, and owner of The Artistry of You, LLC. To learn more about how Pat can help you achieve your best personal style and image call 440-212-2269 or email , or click here to schedule a complimentary style discovery session!
*I may recieve a small commission on some of the styles in my online catalog. This helps to compensate me for the time it takes to create the blog and catalog for your learning and shopping pleasure. Thank you!